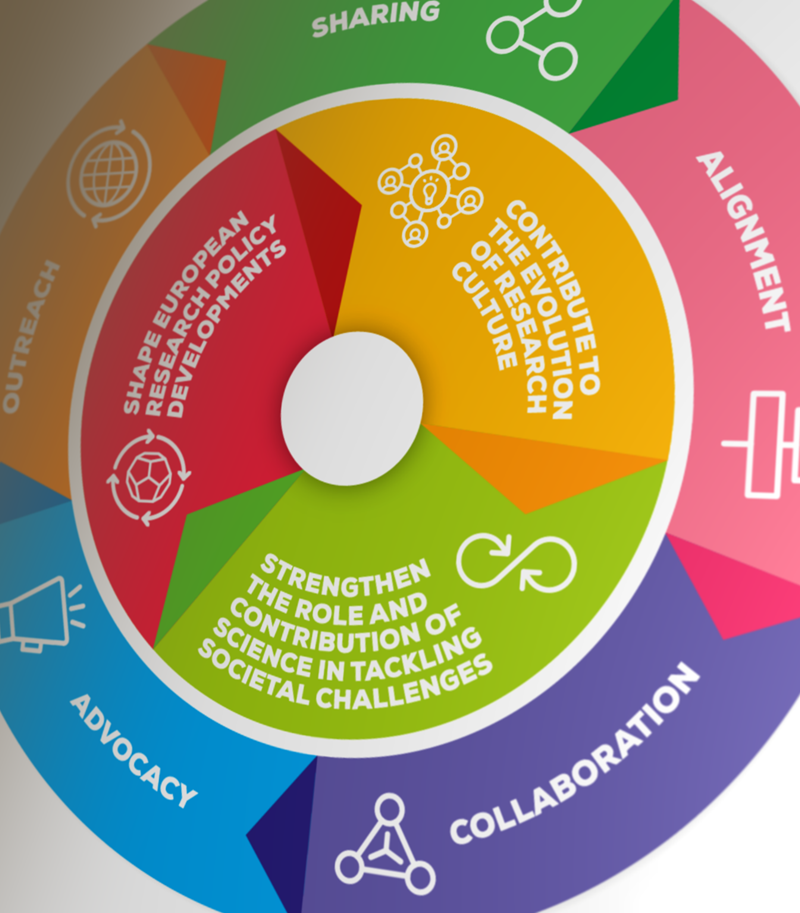 Our Vision, Mission, and Strategy
Science Europe is the association representing major public organisations that fund or perform excellent, ground-breaking scientific research in Europe.
It brings together the expertise of some of the largest and best-known research organisations in the world to jointly push the frontiers of how scientific research is produced and delivers benefits to society.
It advocates science and the scientific community to help build the European Research Area and shape the global scientific agenda.
Science Europe was founded on 21 October 2011 and is established as an International Non-profit Organisation under Belgian law. Its office is located in Brussels.
It integrates the multinational insights, views, and experience of its unique and select assembly of Member Organisations to develop strategic thought leadership on European R&I policies and practices and the role of science in and for society. The diversity of Member Organisations contributes to the richness of Science Europe's activities and leads to outputs that transcend individual members. The association is thus uniquely placed to lead the advancement of the European R&I system and to influence global developments
Vision
Our vision is for a European Research Area with optimal conditions, to support robust education, research and innovation systems. This is a European Research Area where science is a strong and trusted component of sustainable economic, environmental, and societal development.
Mission
Our mission is to define long-term perspectives for European research and champion best-practice approaches, ensuring high quality science for the benefit of humanity and the planet.
Values
We consider scientific knowledge to be for the common good and that research is a public service.
We value and protect the freedom of scientific inquiry and the self-organising nature of the scientific research system.
We acknowledge the responsibility of all actors in ensuring the highest possible standards of quality, ethics, integrity, inclusivity, and openness, in the conduct and management of research.
We recognise the strong links between research, education, and innovation.
We believe that collaboration within the R&I system and engagement with and for society are constitutive elements of science. They are vital to its effective and efficient functioning.
Strategic Priorities
The Science Europe Strategy Plan will be implemented through the following set of strategic priorities that address our vision, mission, and values:
Shape European research policy developments

Contribute to the evolution of research culture

Strengthen the role and contribution of science in tackling societal challenges
Framework Actions
Five framework actions will guide the implementation of the Science Europe Strategy Plan:
Share best practices between Member Organisations

Facilitate alignment of policies between Member Organisations

Promote collaboration between Member Organisations

Conduct advocacy of common interests to EU institutions and relevant stakeholders

Develop and support outreach for Science Europe and Member Organisation activities and the promotion of science