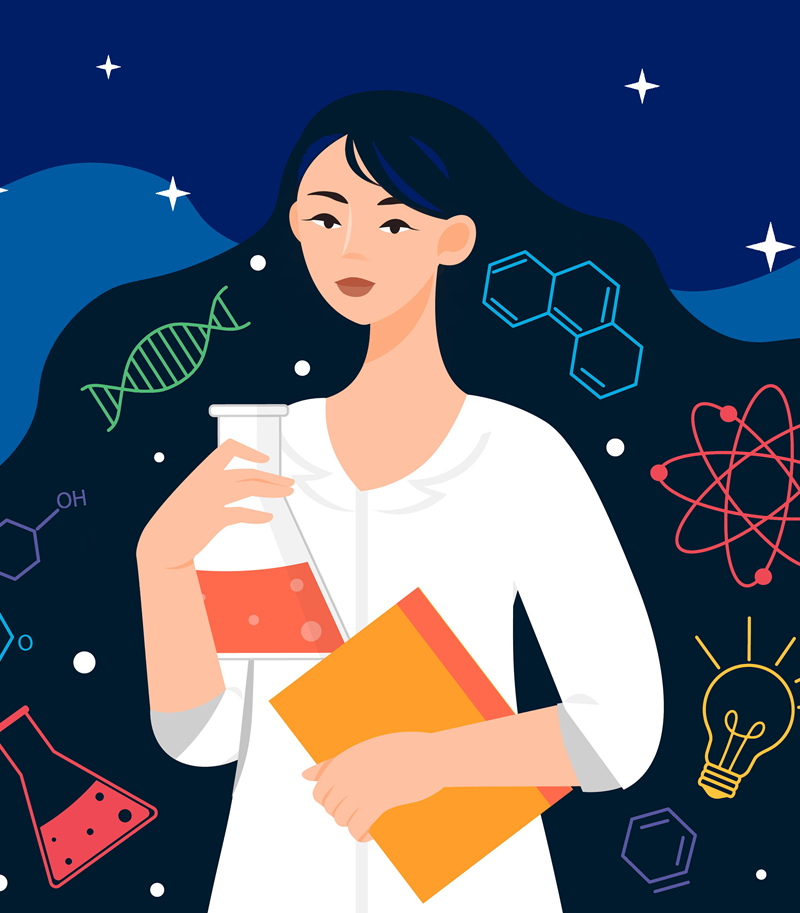 Empowering Women in Science
On the occasion of the International Day of Women and Girls in Science (11 February), and International Women's Day (8 March), Science Europe highlights the experiences of the Chairs of its Working Groups, at the time of this campaign all accomplished women.
Women make important contributions to the field of research and innovation. Whether they make fundamental scientific discoveries, find new ways to translate research results into real-world applications, or work to create optimal conditions for researchers to perform at their best, their impact is undeniable.
However, women's contributions to research and innovation are often a lot less visible than men's. In addition, not only the research profession is stereotypically associated with men, but women remain widely underrepresented in science. The data from the She Figures 2021 report (see inset below), published by the European Commission, clearly shows that this continues.
At Science Europe, we have the pleasure to closely collaborate with many highly skilled women from across Europe to improve conditions for researchers. At the time of this campaign, all our Working Groups are chaired by women. On the occasion of the 11 February International Day of Women and Girls in Science, and the 8 March International Women's Day, we would like to celebrate their activities and achievements. With this campaign, we aim to make women's essential contributions to the research ecosystem more visible.
Over the course of February and early March, we will publish a series of videos highlighting their work and showcasing their stories as a source of inspiration for others. What challenges did they face in their careers, and what support did they have? How would they improve gender equality in research? And what advice would they give to their younger selves? You will find the answers on this page, but also on our Twitter feed and YouTube channel.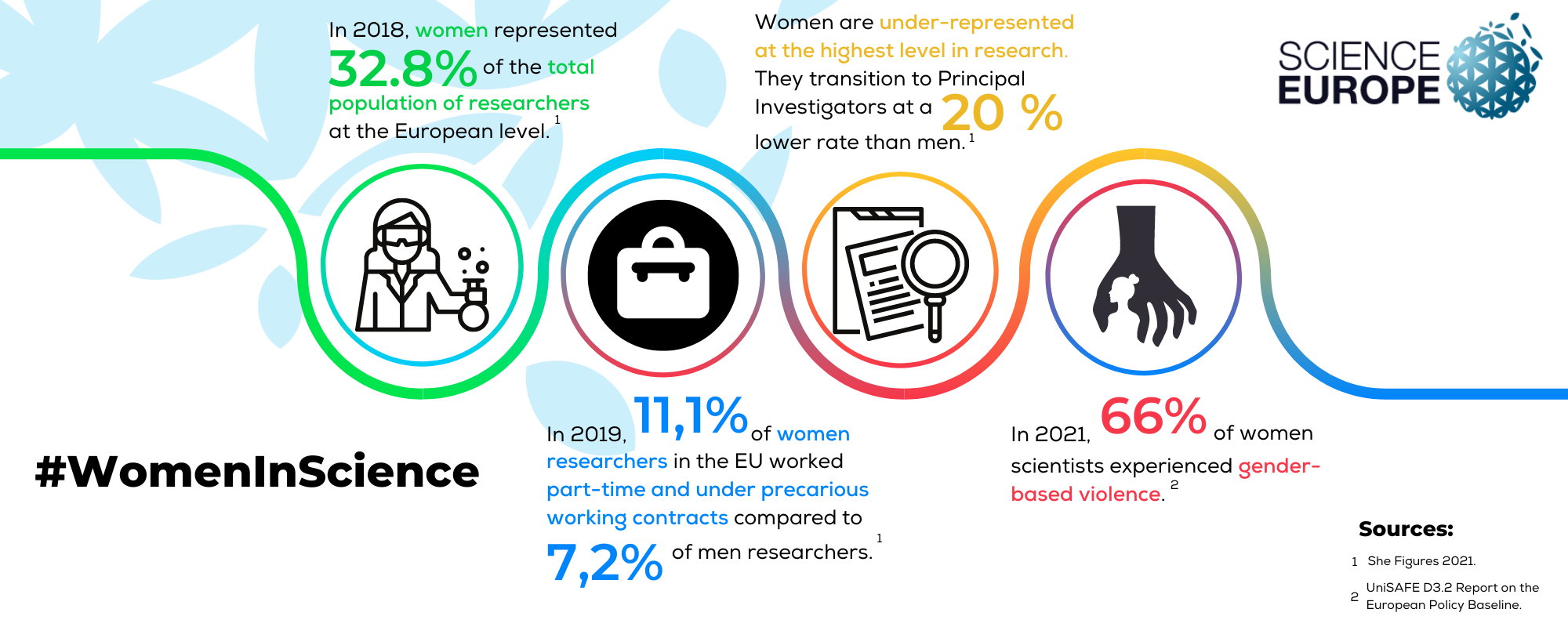 SHE FIGURES 2021 – a summary
Pan-European, comparable statistics on the state of gender equality in research and innovation
Over the last decade, the European Union (EU) has seen positive developments to achieve gender balance in the overall pool of doctoral graduates. Despite this progress, in 2018, women represent around one-third (32.8%) of the total population of researchers at the European level.
Across the EU, in 2019, a higher proportion of women researchers, compared to men researchers, work part-time and under precarious working contracts in the higher education sector (11.1% for women and 7.2% for men).
In 2018, in most of the EU-27 Member States and Associated Countries, women represented a greater share of researchers in the youngest age groups compared to men, but the pattern was reversed in favour of men in the over-55 researcher population in senior positions.
Source: She Figures 2021.
Maria Cruz
Chair of the Working Group on Open Science
Maria Cruz is a Senior Policy Officer with a focus on Open Science at the Dutch Research Council (NWO). She developed and implemented the updated NWO Research Data Management policy, in alignment with the Science Europe Guide, and created an assessment rubric for data management plans that served as the basis for the extended edition of the Science Europe Guide. She developed the NWO Open Science Fund, a new funding instrument to stimulate Open Science and to reward and recognise researchers at the forefront of this movement. She also developed the NWO Persistent Identifier Strategy and co-authored "Research Software Sustainability in the Netherlands: Current Practices and Recommendations." Her background lies in astronomy and space science, with a PhD in radio astronomy, and she has extensive experience in scholarly communication. Before joining NWO, she worked in research data management support at two Dutch universities.
Carolina Cañibano
Chair of the Working Group on Research Culture
Carolina Cañibano is a research fellow at INGENIO, a mixed research institute of the National Research Council and the Polytechnic University of Valencia, in Spain. She was trained as an economist at the Universidad Autónoma of Madrid, where she obtained her PhD in 2004. She has been a visiting researcher at the OECD (1999), at the University of Sussex (2003), the Georgia Institute of Technology (2006) and the University of Western Sydney (2009). She has participated in various national and international research projects. She has recently been a lead investigator in the Spanish funded project (Prest-Ence Spain) exploring the interconnections between the construction of academic excellence and prestige, with a special focus on social science and humanities.
Carolina's research focuses on the theoretical and empirical investigation of research careers, human capital, and economic change from an evolutionary perspective. She has made theoretical, methodological and empirical contributions to the socio-economics of science by addressing research questions regarding the dynamics of geographical mobility and career development of researchers and the knowledge diffusion processes that derive from mobility. Recently she has focused on the gendered dimension of research careers and mobility patterns. She has also contributed to addressing the role of human intentionality in the shaping of economic evolution. At present, her theoretical efforts are targeted at providing the micro-foundations for an evolutionary theory of human capital.
Annely Allik
Chair of the Working Group on Communication
Annely Allik is the Head of the Science Communication Department at the Research Council of Estonia. It offers support to all activities aimed at leading young people to research and technology, and creating and maintaining their interest in science. It also supports communicators, teachers, and students, companies and local government units, and carries out international marketing activities under the initiative 'Research in Estonia'.
Annely has a long-time experience in marketing, including at Estonian branches of Toyota Motor Corp. and G4S Security. For the last 13 years, she worked as a Head of Marketing and Communication at the Estonian Biobank (the Institute of Genomics, University of Tartu). Being responsible for PR and communication of the well-known research institution, she built up high public awareness and trust towards the biobank. She led different recruitment campaigns and won several prizes for her work. She was a member of the International Marketing and Media Committee of the EuroScience Open Forum in 2017–2018.
Lidia Borrell-Damián
Science Europe Secretary General and Chair of the High Level Policy Network
Dr Lidia Borrell-Damián has been Secretary General of Science Europe since 2019. Previously, she worked at the European University Association, where she was Director for Research and Innovation. Her areas of expertise cover a wide range of European and global R&I policies, including business R&I and energy. Prior to that she worked as Director of Research at Pompeu Fabra University, and as an assistant professor and visiting scholar in USA and Canada universities. She contributes to several international advisory committees including the Global Research Council. She holds a Doctorate in Chemistry, with a specialty in Chemical Engineering from the University of Barcelona.
Hannele Lahtinen
Chair of the Working Group on Horizon Europe 
Hannele Lahtien is an experienced Science Advisor with a demonstrated history of working with national and European Research & Innovation funding. She is skilled in Research and Development (R&D) Policies, Management and Life Sciences. She is also a strong research professional with a Master of Science (M.Sc.) in Biochemistry and Doctor of Philosophy (Ph.D.) in Neurobiology from the University of Kuopio. Hannele Lahtien obtained a title of Docent in neurobiology at the University of Helsinki.
Krisztina Szepesvári
Chair of the Working Group on Horizon Europe 
Krisztina Szepesvári is a desk officer for international affairs at Eötvös Loránd Research Network (Hungary; ELKH). Having a profound insight into the national research ecosystem, especially into the system of basic research, Krisztina is responsible for communication with Hungarian governmental actors, among others with the Ministry of Foreign Affairs and Trade (Hungary), and diplomatic missions. She assists in developing ELKH's bilateral relations, and coordinate the operation of the Hungarian research network in EU-related and international topics. She gained a comprehensive understanding of EU's funding opportunities working at the Hungarian Paying Agency of CAP as a coordinator, later on she was involved in evaluation of claims, and in development of standard processes of claims assessment. After moving to the Ministry of Agriculture (Hungary), she continued her work in a broader perspective. As an expert of the ELKH she is ready to share all her experience and knowledge with the members of Science Europe's Working Group, also to learn and embrace different points of view on Horizon Europe.